I n celebration of International Women's Day 2020, we asked some women (who are bossing life) what the day means to them, who they are inspired by and if they have any nuggets of advice for young females starting out in their industry.
1. What does International Women's Day mean to you?
Xanthe Vaughan Williams, Fourth Day's London director: I think International Women's Day provides us with an opportunity to celebrate how far women have come in terms of status and employment in the past few decades – and to reflect on how far there is still to go.
Asma Younus, marketing manager at Mobica and BBC Radio Manchester presenter of 'The Dead Good Show': Everything! For me, it's not just a day to celebrate how far we've come, but how much still needs to be done. Whether it's the everyday language we use, the opportunities available or even something as simple as letting women wear what they choose. I am a British-Indian Muslim woman – so even before I get to the 'woman' tag I generally face challenges. I can't wait for us to finally live in a world where our gender, ethnicity or background doesn't determine who you are and what you're capable of.
Nikki Scrivener, Fourth Day's Manchester director: It's a chance to celebrate what we've achieved, and what we still need to do. The fact that my 10-year-old daughter can't believe there was a time when women couldn't vote, yet I had relatives who saw female suffrage introduced, shows just how much we have accomplished in 100 years.
Amanda Augustine, careers expert at TopCV: For me, IWD is an opportunity to celebrate the many achievements women have made in economics, politics, the arts, and society around the globe, to reflect on how far we've come with women's rights and gender equality, and to acknowledge how much farther we still need to go to achieve true gender parity.
Elisa Artesero, light and text artist, and co-director of Manifest Arts Festival: International Women's Day is a wonderful celebration of women's talents in all facets of life, but sadly, the need for it shows that we are still not considered or treated equally in so many different ways. These can range from subtle differences in treatment and assumptions, to still having unequal pay, to much worse. So, for me, it's often taking note of the gender balance in a room of people that I'm working with, and if I'm able to influence it, then making steps towards improving it next time. It's also about creating a network of supportive people who (regardless of gender) are open to dialogue about questioning their own biases and making steps to change.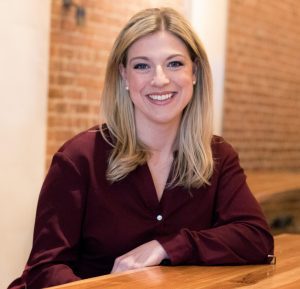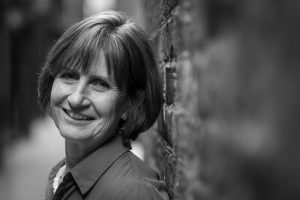 (Amanda Augustine and Xanthe Vaughan Williams)
2. Which women inspire you, both personally and professionally – and why?
Xanthe: The women I find most inspiring are those who have reached a point where they aren't constantly trying to compete on men's terms. So it's not so much the Sheryl Sandbergs of the world that I admire – many of the women who inspire me most aren't household names, but are finding a way to do the things they care about. Our office manager in Manchester, for example, has set up a community newspaper.
And it's great when women dare to have a sense of humour. Shami Chakrabarti isn't everyone's favourite person, but at a talk a few weeks ago she was hilarious. It shouldn't just be Boris Johnson getting all the laughs.
Asma: Every single woman I know has fought some form of battle and triumphed. Women that have overcome or are facing serious illness, that are powering through the corporate world and others who are passionately fighting causes around the world for people that need it most.
My role model list gets longer and longer every day! If I had to choose some of my Manchester favourites, there are the incredible ladies at Heart & Parcel who bring women from communities together by making dumplings and developing ESOL skills and of course my fellow 'Dead Good Show' radio presenter Stacey Copeland, the first ever British woman to win the Commonwealth title and #pavetheway project founder, where she challenges gender stereotypes and inspires women everywhere to fight for what you believe in.
Nikki: So many. All of my female friends, family and colleagues who are holding it together – all day, every day. My best friend, who can be funny, profound, clever, professional, disorganised, late or slightly removed from reality without batting an eyelid – but is always there. Women who love and support other women are a constant source of inspiration to me. I'd be nowhere without the girls in my life.
Amanda: While at university, I had the honour of working for my professor of strategy and the author of 'The Perfect Mix', Dr. Helen Rothberg, at her consulting firm. The pinnacle of this experience was when I got to accompany Dr. Rothberg to New York City for the two-day offsite she held for a client and the CEOs of his subsidiaries. I learned the subtlety of influencing others without telling them what to do, and that sometimes it's best to plant an idea and have your colleagues reach the conclusion on their own. I'll never be able to thank Dr. Rothberg enough for pushing me to be a better, more confident professional.
Early on in my career, I worked for a woman named Sheila Marcelo who, at the time, was the head of operations at our company. Since then, Sheila has gone on to become the founder and CEO of Care.com. Sheila was — and is — an ambitious, confident, intelligent and caring individual. I admired how she was able to juggle a demanding executive position within a startup company and still find time to mentor her young employees and spend time with her husband and two young sons. Her work ethic and commitment to her family still inspires me today.
Elisa: Professionally I've always admired Bjork for her fearless approach to her work. She's constantly pushing the boundaries and going into fields outside music to create art that's fresh, not always understood at first, but totally unique and inspiring. Personally, my previous flatmates who are also self-employed women – it's inspiring to see other women making it work for them, each sharing how we've navigated different elements of this way of living, from the practical aspects of work, to the more gender-nuanced ways in which we've been treated. Also, my parents, who introduced the ideas of feminism and equality to me from a very young age.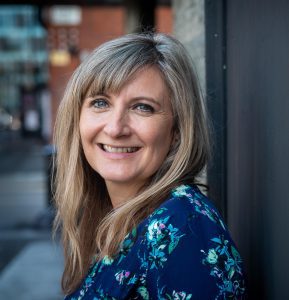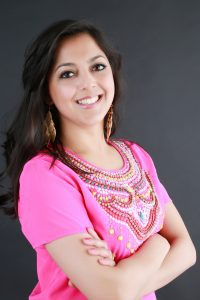 (Nikki Scrivener and Asma Younus)
3. What piece of advice would you pass on to young females looking to get into your industry?
Xanthe: Don't try to be a bloke. If you think things could be done differently, give it a go. Lots of blokes want to do things differently too – so be yourself and see what you can change.
Asma: I know it's a total cliché, but 'be yourself' is the best advice I have ever been given. Becoming a radio presenter at BBC Radio Manchester was something I've always wanted to do, but never believed I could do. I will always be grateful for the support the BBC Radio Manchester team gave me and the faith they put in me, as it not only helped me to push myself on the radio, but they gave me the confidence to grow in lots of other aspects in my life too. It's not always about being the best at everything either, remember to empower and raise up all the other women around you too.
Nikki: I'd have to agree with Xanthe and Asma on this – be yourself. Don't try to conform to what you think 'being successful' looks like. Women bring their natural communication and empathy skills with them to the PR industry, which is why it's such a popular career choice. But equally, all industries work best when we're celebrating the similarities and the differences between both sexes.
Amanda: My role is a wonderful combination of both careers' services and marketing. For anyone looking to get into either of these fields, it's important to hone your communication skills. Much of my time is spent penning articles, hosting webinars, presenting to live audiences, and communicating with journalists, in addition to writing CVs and advising professionals on their careers. Look for opportunities to practice and improve your writing and presentation skills. For example, you can leverage resources like LinkedIn and Medium to publish your written content.
If you're seriously considering becoming a full-time CV writer, I strongly suggest completing a certification through an organisation such as the National Association of Resume Writers (NARW) or the Professional Association of Resume Writers & Career Coaches (PARW/CC).
Elisa: If you're an artist, try to get yourself a studio space to build in a regular practice of going somewhere to work. You'll also meet others also trying to make it work and is great for mutual support and encouragement to keep going. It can also lead to getting projects off the ground together – like we did with Manifest Arts Festival.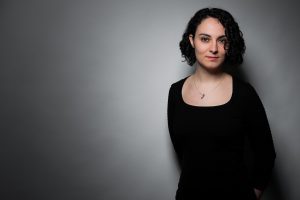 (Elisa Artesero)
We'd like to extend a big thank you to all the women featured in this article, who gave up time to provide in-depth thoughts and insights as we celebrate such an important day.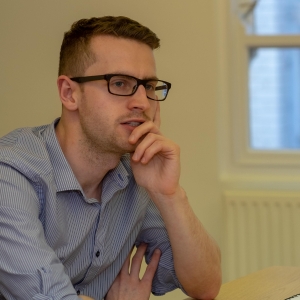 The author
Danny is an Account Manager in the Manchester office