In the UK, we may best know Hamburg for being the city where the Beatles plied their trade before becoming an international sensation. But Germany's second largest city boasts many impressive facts. One of the world's busiest ports, it's home to almost 40,000 millionaires (one of the highest saturations of wealth in Germany).
One of its draws these days is the Reeperbahn Festival, where I've been getting a fast-paced induction on all that Hamburg has to offer. The equivalent of Europe's own SXSW, the Reeperbahn Festival brings together music and technology – with around 250 bands from across the world performing. It meshes the energetic buzz of music gigs with some of the most innovative tech and digital start-ups that are looking to change the status quo of big industries, from logistics and e-commerce, to media and education.
More than virtual benefits
I've been a regular attendee at tech conferences and, similar to the others, Reeperbahn has no shortage of virtual reality (VR) demonstrations. I must admit that I'm a long-standing VR sceptic – having mostly been subjected to virtual viewings of the inside of houses for sale or a clunky 'flying' experience through a nondescript skyscraper city. But the Hamburg VR start up scene was a sight for sore (Oculus Rift-clad) eyes.
However, there are a handful of Hamburg companies that are making waves in the VR space and they are delivering some distinctly different experiences for both businesses and consumers. From multi-player, sci-fi 'shoot 'em up' arcade games and virtual live music gigs, to seamless 360 landscape experiences, these virtual reality experts (you could even call them fanatics) are creating some really cool technology.
While my whirlwind trip continues, Hamburg has already left me with a lasting impression; a city that champions creative minds. With its strong commitment to supporting a flourishing start up community, it will be interesting to watch which 'next-big-thing' comes out of this city.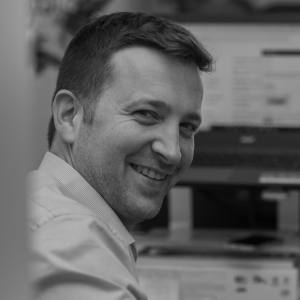 The author
Paul is Fourth Day's Head of Content , based in Manchester