W hile the guessing game about what lies ahead in 2020 continues, we've taken a pause to look back at the departing decade.
Nikki and I asked a few of Fourth Day's clients and friends for examples of inspired and/or terrible PR since 2010. Unsurprisingly the most recent examples were at the forefront of people's minds – Prince Andrew was a clear front runner in the "desperately awful" category – but one or two came up that were less obvious. We've included our favourites here – more negative than positive, but the fact that the majority are from the past two years should serve as a reminder that even the most painful PR disasters fade from public memory as time goes on.
THE TOP FOUR
THUMBS UP: Making angry customers laugh: The Great KFC Chicken Shortage, 2018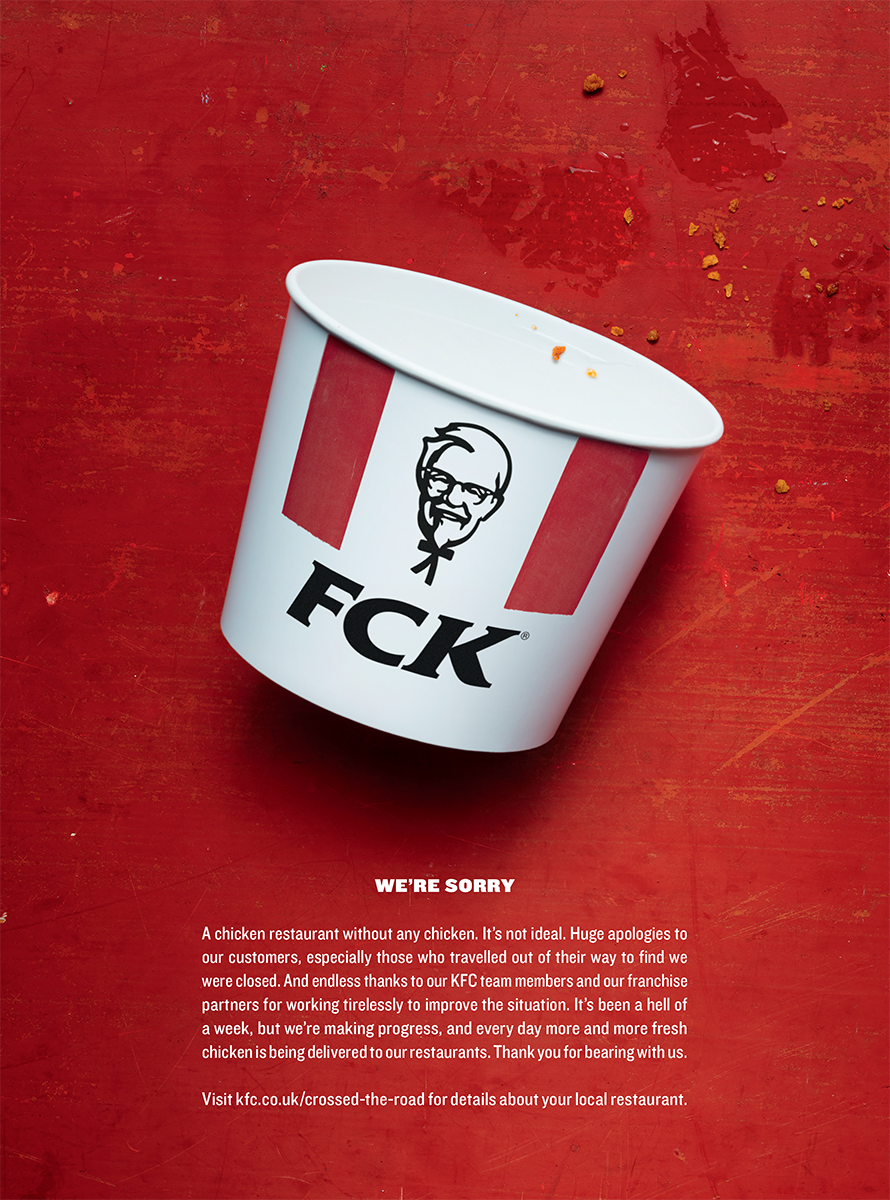 Nominated by Jon Smith, CMO, Autocab
An example of a brilliant turnaround in public opinion. On 19th February 2018 it was reported that KFCs across the UK had run out of chicken due to delivery problems following a change of supplier. Given the breadth of exposure that the story received, and that it was about a chicken restaurant that didn't have any chicken, you might have assumed that the brand was doomed. However, KFC's response, an apology that mixed (slightly inappropriate) self-deprecating wit and genuine regret, hit exactly the right note. Public opinion turned around overnight and within 3 days the brand was forgiven.
We'd say that congratulations are due to the delivery company, which kept its head down during the furore – how many of us know who that was?
THUMBS DOWN: Not checking the mic is switched off: Gordon Brown, 2010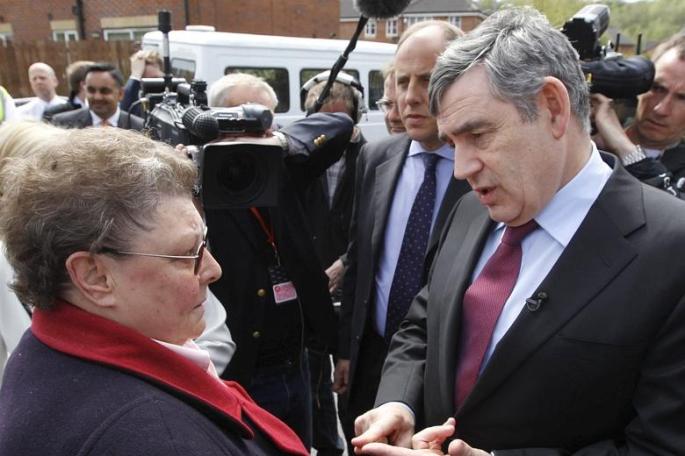 Nominated by Theresa Knight, PR Manager, MHA
Right back at the beginning of the decade, Gordon Brown made the mistake of sharing his view that a labour supporter was a "bigoted woman" without checking that his radio mic was switched off. The glee of the media at his comments being broadcast on air was intense. It's a reminder that one of the jobs of the communications advisor is to have a rigorous set of procedures – one of which is "never say ANYTHING until you're sure you can't be overheard". A good tip someone once gave us is to follow the same policy when speaking in a private hire cab after a business meeting. That particular person had a "friendly" driver who would always report back on overheard conversations…
THUMBS DOWN: When PR breaks the Fourth Wall and your spokesperson runs away, Persimmon, 2018
Nominated by Patrick Law, former Communications Director to various FTSE 100 companies
In a toe-curling BBC interview, Jeff Fairburn, ex CEO of Persimmon, was asked questions about his £75 million bonus. An off-camera voice pipes up with a protest of "can we not, sorry" and the interviewer's conversation turns to the invisible adviser while Mr Fairburn stands grinning awkwardly. He eventually walks away from the interview entirely.
As Patrick comments, "It was probably the moment the Board's patience snapped and his fate was sealed. Today, Persimmon, one of the largest housebuilders in the country, remains under a toxic cloud of poor quality homes and excessive pay. The reputational damage will take years to resolve because it goes to the very purpose of the organisation."
We feel the pain of the advisor, who had hoped for a positive interview about a factory, but we'd also suggest that it is the PR's job to work out what the journalist's focus is likely to be and to prepare accordingly. In a case like this, where a huge bonus has recently been awarded, the big story shouldn't have been too hard to guess.
THUMBS DOWN – AND UP: The Sackler family and UK arts: the contagion of a damaged reputation, 2019
Nominated by Carol Wolicki, marketing and communications consultant based in Boston
For anyone not aware of this story, the philanthropic and phenomenally wealthy Sackler family owned a significant portion of the Purdue Pharma company. When the media revealed that Purdue's products were contributing heavily to opioid addiction in the US, the Sackler family withdrew much of its funding. However, this wasn't enough. The damage to the Sacklers themselves was devastating, but its beneficiaries, which include many of the UK's most prestigious art galleries, also came under pressure to dissociate themselves from the Sackler name. Organisations including The National Portrait Gallery, the Tate and the Guggenheim felt that their brands would be tainted by the association and accordingly rejected large sums of money from the Sacklers, setting a precedent for all arts organisations to conduct tighter scrutiny of all future donations.
On the plus side, we'd like to flag up the exemplary reputational management of a small organisation, the South London Gallery, which rejected £125,000 from the Sacklers in 2018 for the same reasons, but almost a whole year earlier than the bigger institutions.
SPECIAL MENTIONS  
Untamed leaders: Travis Kalanik and Elon Musk
From Matt West, Senior Director, Integrated Marketing, Rocket Software, and Carol Wolicki
For a PR adviser, a "rock star" CEO is a mixed blessing. Two companies, Uber and SpaceX, known as rebellious rule-breakers, were nominated for the living PR disasters that are their respective rule-breaking and rebellious CEOs. While Uber dispensed with its founder and CEO Travis Kalanik in 2017, Elon Musk continues to make waves in the media while in place at SpaceX. Uber is literally still paying the price: the company has just spent $4.4m compensating its employees for allowing a culture of sexual harassment.
Getting it so, so wrong: Serie A anti-racism campaign 2019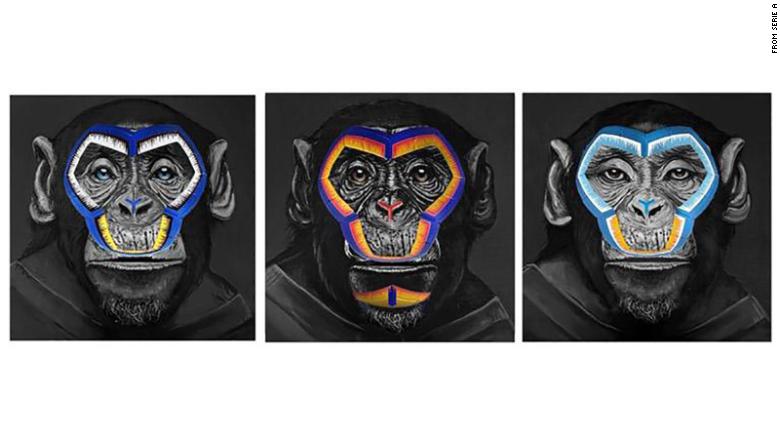 Finally, the "What WERE they thinking?" prize goes to the Italian football league Serie A, which used images of chimps in its campaign to kick out racism. Apparently, the league's aim was to communicate that we are all the same and descended from apes. The outrage that followed, including from a number of Italy's football clubs, led to a public apology, but we're still finding it hard to imagine the meeting in which everyone high-fived one another about that idea.
If you have any favourites of your own that you'd like to share, tag us on Twitter @fourthdaypr or email xanthe@fourthday.co.uk.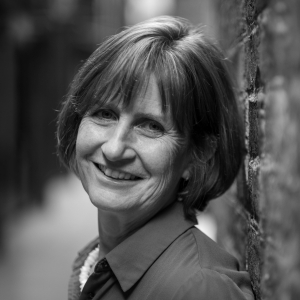 The author
Xanthe is a co-founder and director of Fourth Day PR