Y esterday, Laura and I headed to Liverpool for the Smart Factory Expo – an event hosted by The Manufacturer as part of Digital Manufacturing Week that brought together more than 6,000 industry leaders and 'digitally-minded manufacturers.'
It's a little bit geeky but I find the world of manufacturing fascinating. My colleague Nikki's the same, so whenever we get the chance to don a hi-vis vest and join a factory tour, it's a good day! From robots and 3D printing to AI-driven inspection technology, there was lots to see, do and learn – here's my three takeaways.
Industry 4.0 – still new?
Let's start with Industry 4.0. This has been a huge theme for the industry, so I was keen to hear what manufacturers thought about it and whether, a bit like 'digital transformation,' it's become a buzzword. As we wandered around the exhibition hall, we passed one talk where I heard the words 'we're now entering the fourth industrial revolution…' I'm sure we were saying the same thing in 2015 (and earlier) so what's new? When I asked one of the exhibitors what they thought, he replied:
'Industry 4.0 and the connected factory has been around for ages, we just decided to give it a new name.'
Beyond what we call it, how can manufacturers get buy-in as they move towards that vision of the connected factory? Richard Simmons, IoT practice lead EMEA at Logicalis made a good point about the importance of touch points when implementing new tech. '
'Many of these projects can run over a long period of time so sharing learnings with the team is vital. Build in regular touch points where, after three months, you're delivering something that shows people value. It doesn't have to be up and running perfectly but helps to get them invested.''
Something else Richard said that I found interesting was how Logicalis has built its network of partners. Within IoT alone, they work with over 100 different partners – Richard acknowledged there's not a huge difference in what they provide, but that each has a unique culture and way of working that Logicalis can benefit from.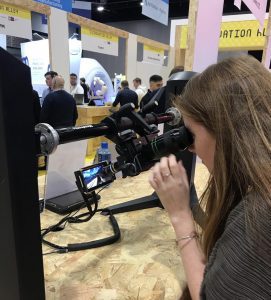 Sustainability
From reusable bags to plastic alternatives, manufacturing has changed as consumers demand an eco-friendlier product. But it's not just what we're making that's becoming more sustainable, it's the processes and models around how we make it too.
Make Thread is a homegrown Liverpool company that gives budding designers the freedom to start their own T-shirt label without the need for manufacturing capabilities (and the associated upfront cash). Similar to companies like MADE.com, T-shirts are only manufactured when someone places an order – removing the need to produce hundreds of them that designers then need to flog, which can result in waste. Instead, a model like this is helping to reduce landfill and create more sustainable fashion.
The rise of robotics  
There was much more technology on show than I expected, including some cool stuff in robotics. At Omron's stand for example, we saw a sophisticated model that could essentially move things from A to B – but that could also pass things to one another and take over from one model when its battery runs low (and which also didn't get thwarted by things like little bumps and steps on the floor!).
We've worked with lots of different types of manufacturers over the years and one of the biggest challenges has been around perception – that lingering stereotype with much of the industry seen as 'clunky' and 'slow to change.' But listening in to yesterday's talks and speaking to exhibitors, it really did seem as though we can finally put that label in the past.
Image by The Manufacturer.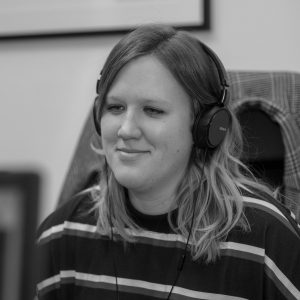 The author
Lizzie is an Associate Director in the Manchester team