6 Manchester venues for every business occasion
By Lizzie Wood
I asked friends, colleagues and partners to share their favourite spots around Manchester for any event – whether it's a photoshoot, roundtable or party.
1. Best for: hosting a roundtable discussion
With a central location and plenty of character in its meeting rooms, Kimpton Clocktower Hotel is the perfect spot for hosting a roundtable. Whether you're keeping it a closed discussion for 5 people or opening it up to 50 attendees, there's a space for everyone.
2. Best for: your next photo shoot
There are lots of great spaces for this, but fivefourstudios in Salford is a favourite for video and photographic production company, Jason Lock Productions.
They have a stunning bar area that's ideal for a private events too.
3. Best for: a party!
There are plenty of spots in Manchester's Northern Quarter to choose from, but our favourite would have to be the Northern Monk Brewery.
We had a ball hosting our 20th birthday here this year. Great beer, exposed brick, and string lights. What more could you want?!
4. Best for: co-working
Manchester isn't short of coworking spaces but one that Heather Gray recently put on my radar is Clockwise at Linley House. It's just had a big refurb, complete with a gorgeous retro aesthetic.
5. Best for: recording your first podcast
Bruntwood Works have done a great job of renovating some iconic buildings in Manchester including Blackfriars House. Its 'plug and play' podcast studio can be hired by the hour and is ideal for experimenting with podcasting.
Reform Radio is also a great spot as recommended by our friends Rupert and Suzi at Story Publishing.
6. Best for: a catch-up coffee
We're spoilt for choice when it comes to coffee shops – a few of my favourites are Ducie Street Warehouse and Fig + Sparrow.
You can also check out this round-up for more options.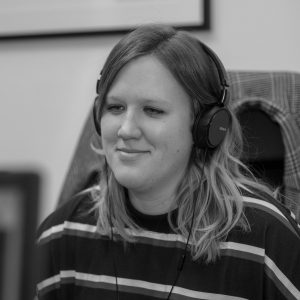 The author
Lizzie is an Associate Director in the Manchester team