Welcome back to our Q&A blog! This month we quizzed Paul Maher, who heads our content marketing department up in Manchester.
1. Favourite band as a teenager?
Nirvana. I started taking an interest in bands sometime between the whole Madchester movement and the emergence of Oasis and the Brit Pop era. So it was grunge and Nirvana for me.
2. If you could travel anywhere in time, where would you go and why?
I'm quite intrigued by the Victorian age and the idea of being an English gentleman seeking his fortunes around the world. Not really into the subjugating other people bit, but traveling through new lands and meeting other cultures at a time when adventurers were the rock stars of the age would have been fun.
3. Tea or coffee?
It depends on my mood. Usually tea no sugar.
4. Name one modern appliance you could/would choose to live without?
My multipurpose steamer! Looked like a genius purchase on the advert. In reality, a complete waste of money.
5. What can't you live without?
Food, water, love… and sadly football.
6. What event would you choose to enter in the Olympic Games if you had to pick one?
Beach volleyball looks fun. Definitely not the blind triple jump in the Paralympics though. That's just scary – I've a lot of respect for those athletes.
7. Favourite memory of your childhood?
Flying kites on a beach in Cornwall with my sister. Innocent fun.
8. If you weren't in PR, what would your dream job be?
Content marketing, haha.
9. Favourite all time song and why?
Tracks of my tears, Smokey Robinson. It's a sad song but it reminds me of happy times.
10. What do you think the next big thing in the media will be?
Mobile everything. My mobile phone is fast becoming the entry point to all elements of my digital life – whether I'm working, socialising, sorting bills or just messing about.
Find out more about Fourth Day's content marketing service.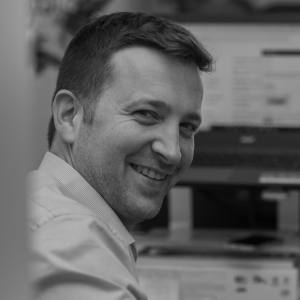 The author
Paul is Fourth Day's Head of Content , based in Manchester