Don't just make a podcast – create something worthy of recommendation
By Nikki Scrivener
It's rare for me to stumble across a podcast by myself. I'll usually base my listening on recommendations from people that have a good idea of what I'll like. Colleagues and friends recommend podcasts in much the same way they do TV shows. In fact, there's something about encouraging your peers to listen to something that feels very revealing and personal.
That's why podcasts are such a powerful marketing tool. The best PR happens when people and brands are recommended independently. If you're going to produce your own podcast, you need to make sure people feel confident about passing it on.
Unsurprisingly, quality is key. In research published by Ofgem in April 2021, 94% of regular podcast listeners cited 'quality of podcasts' as important when accessing a podcasting platform.
In the same way that not everyone can write a good blog, not everyone can produce a good podcast. A poorly written piece will disengage a reader and listeners won't stick around for long if you're not willing to invest in making your podcast the best it can be.
I chatted to Fourth Day's podcast production partner, Suzi Dale at Story Publishing, about what she thinks makes a podcast stand out.
There's a danger that everyone thinks they can produce their own podcast, and they don't consider the quality enough. Why is quality so important?
The quality of your podcast is key – if you're listening to something that's poorly recorded, or with little editing, it can sound rambling and lack clarity. Listeners will either turn off or not take home the message you want them to leave with.

 Most of us decide whether to carry on listening after the first few minutes and it's at that point that you've got to grab your audience and say: 'don't go anywhere, you can't miss this'.

 Quality is key to attracting listeners and keeping them, as is getting your message across professionally and succinctly so that the audience can take something away; be that knowledge, an emotional response or insight.
What's the ideal length for a podcast? Do you have any other tips for what makes a good format?
The beauty of podcasts is you can write your own rules. However, you do need to think about the audience you are targeting and how, and when, they going to be listening. Ask yourself; are they commuters, entrepreneurs, thought leaders? Or are you aiming for a wider market? An hour is probably too long for most people, but sometimes people will listen to one episode in two sittings. A sweet spot for most of us is around 20-30 mins, with a key focus on the first five minutes.

 As for format, again, I see no rules. – You should dream big – there are no limits to how you can reflect your brand and vision. Podcasts can take you anywhere with relative flexibility. They could be one-on-one interviews, studio discussions or out and about recordings; as long as it's professionally produced and tells a story the audience can connect with, you're winning.
How can you make your podcast stand out?
The key to this is in the pre-production; time spent planning the podcast and really getting to grips with what you want to achieve. Think big, don't churn out the same content as everyone else. Be creative, be bold, make a statement, be challenging and don't be afraid to tackle the big issues facing your industry and topics 'of the moment'.
I'd add to that, don't forget to promote it! Podcasts make extremely valuable owned content so invest some time into promoting it through your social channels, website, via your direct marketing and at events. Engage with your early listeners in particular – they're the ones that will lead that chain of recommendation.
What are your three favourite podcasts and why?

Ear Hustle, which is set in San Quentin State Prison. It produces honest, difficult and sometimes funny stories from people behind bars in America. It gives an insight to a system few of us will ever experience.

 To keep our minds and body healthy, TV doctor and author Rangan Chatterjee's Feel Better, Live More podcast gives you plenty to think about, whether it's the importance of sleep to dealing with stress. Episode 54 – Re-defining happiness with Professor Paul Dolan – is a must-listen.

 And if you're new to podcasts, and haven't heard Serial from This American Life, you should have a listen to Series 1. Great for a long journey if you like true crime.

Plus, I should give a mention to a recent podcast we've produced called My Digital Journey, on how technology continues to influence, challenge and disrupt business. The episode with adventurer and author Alastair Humphreys talks about building honest connections through storytelling.
I'd agree on Serial, that was probably the first podcast I got hooked on. The Tim Ferris Show is a good listen when I'm at work, and I'm eternally grateful to my friend for recommending Fortunately, which I now LOVE. Listening to two women rambling on about anything and everything. I can't image why that appeals…
Do get in touch if you'd like to speak to us about producing your own podcast and how to make it stand out.
And I'd love to hear your top three recommendations!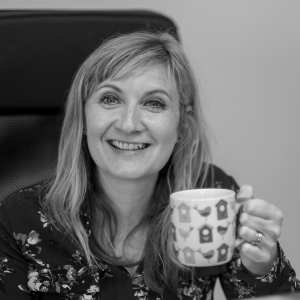 The author
Nikki is a director and co-founder of Fourth Day