The best coffee shops for meeting Fourth Day in Manchester
By Paul Maher
If you come to Fourth Day's Manchester office we promise to make you a delicious coffee.
As good as our coffee is though, there are times when we like a change of environment and so we might suggest venturing out and meeting you in one of the many coffee shops nearby. Since we're right in the heart of the Northern Quarter, we've no shortage of great independent places on our doorstep. Like many Mancunians, we're incredibly proud of this trendy and thriving part of the city.
If you were to ask which of the many local cafés is best to meet, however, it would be hard to give you a straight answer. That's because it depends on the type of meeting.
To explain, here's a guide to the numerous 'best' coffee shops in the Northern Quarter of Manchester, and the reasons why.
Best for two:
North Tea Power – Don't be fooled by the name! Granted the tea is a force to be reckoned with, but the coffee is also very tasty, and there are plenty of spaces to accommodate 1:1 meetings. They also have a handy communal table in the middle which tends to attract a lot of freelancers and gives it a friendly, co-working vibe.
Recommended for: New York style coffee shop hang out with a great playlist
Best for large groups:
Foundation Coffee House – One of the more recent editions to the NQ coffee shop family, this place is HUGE, without looking like a chain. The black and white tiling décor inside gives the interior an edge – and if you have a few people to accommodate, there are oodles of group tables and booths up for grabs.
Recommended for: Groups of 4-10
Best for meetings with minimal fuss:
Idle Hands – We were disappointed when we found out that plans for this place to open up right next door to our office were scuppered. But we're delighted that it's now found a permanent new home just a couple of streets away. A bright interior with smart wooden furniture (provided by other local businesses) greeted us when we popped in. The coffee was excellent too – as good as we remember it being at the original Piccadilly pop-up.
Recommended for: A new spot to try on the NQ coffee shop trail
Best for creativity/relaxation:
Chapter One Books – Pretty popular with the tea lovers in the office, this mini library-come-café has a relaxed atmosphere and friendly staff. Centre stage, there's a water feature to help you ponder – while the seating areas within the nooks and crannies provide the accommodation for a good chat.
Recommended for: Literary discussions, book recommendations and the porridge (amazing!)
Best for light and airiness:
Ezra and Gil – This is a big hit for Fourth Day meetings. There's a variety of different table sizes and spaces, always a good atmosphere and they also offer great breakfast and lunch options if you're hungry.
Recommended for: A bustling but airy atmosphere
Best for cake and organic products:
Teacup Kitchen – If you want to woo your colleagues with beautiful cakes then look no further than Teacup. This is a place that prides itself on its organic credentials and top notch ingredients. And there's always a friendly atmosphere whenever you call in.
Recommended for: Cake, lively atmosphere and delicious food and drink
Best for games and free* drinks:
Ziferblat – *Paying by the minute might not be everyone's cup of tea (pardon the pun), but this social enterprise has come up with an imaginatively furnished space that you can hang around in all day if you like. The food and drink is unlimited and includes cereals, toast, biscuits, cake and drinks with tea, coffee, milk fruit juice and water.
Recommended for: Novelty factor and evening opening
Best coffee:
Takk Coffee House – The coffee is great at all of the places above, but Takk is our absolute favourite for taste – we count ourselves very lucky to be within skipping distance of this one!
Recommended for: Sheer coffee brilliance and nice staff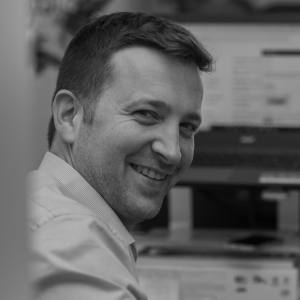 The author
Paul is Fourth Day's Content Director, based in Manchester