Last week, Fourth Day took the gruelling two-minute walk to our neighbour Porter Novelli's office, based in London's Bankside, to hear an inspiring panel of speakers deconstruct SXSW 2017. The event, which takes place in Austin, Texas each year, is billed as the world's biggest meeting of creative minds, bringing together the best of the interactive, music and film industries. And this year didn't disappoint, according to the five panellists, with SXSW putting some seriously exciting technologies on show.
Made up of a diverse group of experts in fashion, biotech, retail and more, the panel took a positive outlook on their experiences at SXSW, and it was uplifting to hear their opinions about how much good technology can do when it comes to improving peoples' lives. If you, like me, didn't have the opportunity to make it to SXSW this year, here are three issues that stood out during a lively discussion held by the panel.
1) AI won't lead to a dystopian future
The panellists were almost unanimous in saying that the concerns about the future implications of artificial intelligence (AI) are exaggerated.
In fact, the negative impact of AI on jobs was very much dismissed by each of the panellists. Matthew Drinkwater, head of fashion innovation agency at London College of Fashion, pointed out that the fear of robots stealing jobs has been regurgitated in the media every decade since the technology was first spoken about. Gemma Milne, co-founder of Science: Disrupt, agreed and made reference to the good that AI can have in the care profession; arguing that carer jobs could not be replaced by an artificially intelligent robot, as human touch is a vital part of the role.
In reality, it's true that certain jobs will be at risk of being taken over by a robot in the distant future. But the panellists were quick to draw attention to the tech-savvy, creative audience, whose jobs would not have existed twenty years ago. Ultimately, the consensus was that the dangers are overblown and that practical applications of AI should be embraced.
2) How much hype does tech deserve?
To spark some debate, the panellists were asked to give their opinion on whether certain technologies on show at SXSW were valuable innovations, or whether they were simply hype. The general consensus was: "it depends". For example, a tampon that could detect endometriosis was a big hit with the panellists — an illustration of the capacity of tech to do good. While still in the early development stages, the excitement certainly seemed justified to me.
Some of the other products at SXSW were considered more frivolous, for example a mobile phone combined with an e-cigarette. This particular piece of tech left not only the panel, but also the audience, questioning whether it was worth the time and effort!
3) Privacy is dead; hackers are a fact of life
My personal highlight of the evening came towards the end of the talk, when debate moved on to the subject of privacy. The panel was unanimous in its acceptance that hacking is now a fact of life, which is making data privacy harder to achieve than ever before. However, Gemma mentioned a website – haveibeenpwned.com – as a handy way for people to take back a little bit of control when it comes to their own data security. This ingenious but simple tool can tell you if your email account has been hacked, so you can change your password and make sure any other accounts (Facebook, Twitter etc) are using different passwords as well. It turns out that my Yahoo! account was compromised in the company's notorious cyber breach – so that little tip from Gemma has already come in handy!
The opportunities are boundless
More than anything, the event highlighted that the potential for technology to change the world is still front and centre at SXSW. The panel left us feeling inspired, and very much looking forward to what SXSW 2018 has to offer.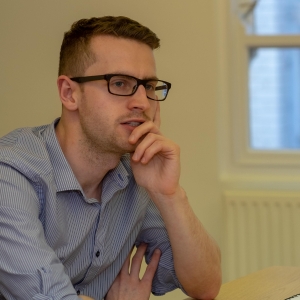 The author
Danny is an Account Manager in the Manchester office