Last week, the team at Fourth North headed off for the second in a series of creative PRand content services brainstorms. In the spirit of getting out of the office and swapping our desks for a more inspiring space, our get-togethers are a chance to get out of the office and chat through everything from new projects, creative campaign ideas, business in the community, upcoming events and more…Several heads put together are better than one and it's a great opportunity to take in some of Manchester's scenery (we visited the beautiful Gorton monastery just before Christmas) as well as talking all things business.
Last week we visited the Portico Library. Tucked away at the top of a steep flight of stairs behind an unassuming entrance on Mosely Street, you may walk past the library on first passing. Founded over 200 years ago, the space is home to a collection of mainly 19thcentury volumes, including an intriguing 'polite literature' section, as well a gallery and café. The building is open throughout the week for browsing, meetings or just as a quiet space for a pot of tea. We particularly loved the 'adopt-a-book' scheme which helps to preserve the library's books, many of which are hundreds of years old.
After our tour of the library it was time to head over to The Allotment in the Northern Quarter. True to its name, we found ourselves setting up camp on one of the picnic tables, surrounded by flower pots, green grass and several potting sheds. After ordering one or two cocktails (all in the name of getting the creative juices flowing) it was time to get some serious brainstorming done.
Many of our clients have specific targets that they're keen to achieve, with national coverage often high on the list. We took some time in our session to discuss one of our newest clients and some of the tactics that we could look to in order to launch a campaign that would achieve just that. After chatting through angles, we came up with a list of various organisations and educational institutes from a particular sector that we could partner with to drive a dedicated campaign that would talk about the wider issue. We'll be presenting the concept to the client at our next meeting and hope to get the ball rolling in the next few weeks. Box ticked.
We then moved on to talk about a charity event that we support ever year – Byte Night.Byte Night is one of the biggest annual fundraising events for Action for Children, a charity which helps change the lives of vulnerable young people. Byte Night sees local businesses up and down the country dust off their sleeping bags and come together once a year to sleep-out in the elements.
In the run-up to the sleep-out, we try and raise as much money as possible. Last year we held a really successful band night at Manchester's Sound Control as well as regular cake sales, raffles and auctions. This year we want to do all that and more.
We bounced around some thoughts and came up with the idea of a tasting event for friends and clients of Fourth Day where local cookery schools and restaurants will be on hand to talk through their top tips as well as passing round some samples of their own. It'll be a chance to meet new faces, catch up with old ones and hopefully an opportunity to pass around the charity box too! Look out for your invite in the coming months…
A change of scene really is a great way to approach the more creative ideas and is something that we're committed to making more time for as we continue into 2015. While the location of our next session is yet to be decided, we welcome all ideas from our fellow Mancunians and those further afield! You can tweet us your favourite creative spot at @fourthdaypr.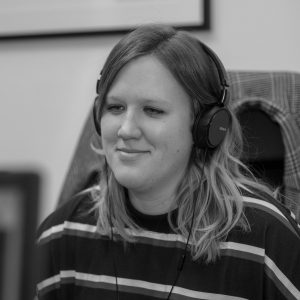 The author
Lizzie is an Associate Director in the Manchester team