L ast night, we took Honest Talks on the road for the first time as we headed to Liverpool to discuss the future of work.
We were lucky to be joined by portfolio careerist, Gemma Dale; lecturer, author and co-founder of The Work Consultancy, Leanne Scaletta; Operations Manager at recruitment consultancy We Are Adam and Anna Smith, a former lawyer turned developer who works for Automattic, an organisation with over 1,000 employees but no fixed office. Hot on the heels of our Manchester event on the same topic, a lively discussion ensued covering all things related to the modern-day workplace …
Technology has changed, why can't our workplace?
We kicked off the evening with Gemma Dale highlighting how the way we work and what we produce has completely changed in the last 100 years. Pre technology, work was a place where, often, a tangible thing was made. The introduction of email, Slack and other technologies means this has changed, with most workers now desk based. According to Gemma, if we invented work again, the model we have in place now wouldn't exist. She asked us, "can you imagine saying to people that you'd all need to travel on a packed train every day, going to the same place. Then repeat this for 345 days a year?" In this reinvented world of work, gone would be the long commutes and the culture of 'first one in, last one out' presenteeism, which right now is still the standard norm.
As an operations manager at We Are Adam, Leanne Scaletta, has had her challenges when introducing a more flexible working policy. As a more traditional, targets-based industry, having flexible hours caused some of her employees to have what she described as a "stiff upper back" if people were leaving earlier than the 5pm. Some employees embraced it, others found it harder and Leanne's advice is that there is no tried and tested recipe for success, each organisation has to find a model that works for them.
A distributed workforce creates strong relationships
The most extreme example of flexible work was provided by Anna Smith. At Automattic, Anna believes that having this kind of workforce actually encourages a strong working culture. Their initial interviews are done over slack and they look for people who are intrinsically motivated. As open source developers, she believes the same culture of open source is manifested in the company. As a lot of work is their work is built on trust and transparency, stronger working relationships are created as a result.
Wellbeing should be at the core of any strategy
All three panellists discussed their own personal challenges with mental health and how finding a workplace that worked best for their wellbeing was a priority. For Anna, the strict 9-5 simply did not work. She advised that it's about not being afraid to step out of the routine we have been socially conditioned for. For Leanne, employers who value wellbeing are extremely important in fostering a thriving working culture. She was honest about needing to previously take time off due to mental health so "finding a flexible employee who could fit in with her times and needs" was essential
Thanks again to our panellists and audience for such an engaging and lively discussion. We will be back with #HonestTalks in 2020. Watch this space …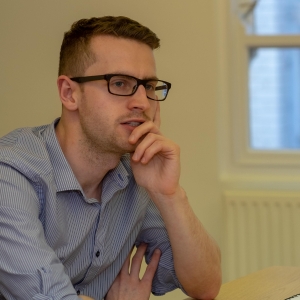 The author
Danny is an Account Manager in the Manchester office