Starting the day with a hearty breakfast is just as important as finishing it off by getting a good night's sleep. Or so I like to tell myself.
A breakfast meeting can, however, be a great way to squeeze in a quick catch-up with colleagues or clients before work. And with a whole host of brilliant eateries dotted around us in Manchester city centre, it would be a shame not to sample them.
With that in mind, I asked my colleagues to share some of the best cafes to eat in before 9am. I hope we've not missed off your favourite.
Here are six of the best:
West Corner – When you're sat in West Corner it's easy to see why the Northern Quarter is so often considered the perfect double for a New York film set. The cafe has that high-grade US diner feel with large glass windows overlooking the distinct urban Victorian architecture of Stevenson Square. With great staff and a chilled atmosphere, the only downside is you get too comfortable and forget to go to work. (open from 7.30am)
• Recommendation: The melted five cheese and pepper cured bacon on stacked Belgian waffles
Ezra & Gil – Just around the corner from the Fourth Day office, E&G is a firm favourite of ours. This quirky spot serves up a range of options to cater for all tastes, from fresh pastries to breakfast staples such as scrambled eggs on toast. Helpfully, they also provide power sockets if you're keen to make a head start on your day's work. (open from 7.30am)
• Recommendation: Any of their fresh warm pastries
Credit: Ezra and Gil Instagram
The Koffee Pot – A favourite haunt of Manchester band Elbow, this traditional cafe offers up the classic 'greasy spoon' style English breakfast option, vital for every good breakfast guide. Scottish and Irish specials are also available for the more adventurous among you. (open from 7.30am)
• Recommendation: The Full English – what else?!
Credit: Coffee Pot Instagram
Federal – If you fancy a foodie hit from Down Under, this is the perfect choice. Situated just on the edge of the Northern Quarter, you'll find a healthy menu here littered with plenty of avocado and eggs, as well as the Australian staple of Vegemite on toast! (open from 7.30am)
• Recommendation: Smashed avocado on sourdough toast with poached eggs
Credit: Federal Instagram
Pot Kettle Black – Perhaps slightly off the beaten track in terms of our office's Northern Quarter location, but this lovely little cafe is a hidden treasure tucked away inside the cast iron and glass Victorian grandeur of Barton's shopping arcade. They offer plenty of healthy options to get your day started in the right way. (open from 8am)
• Recommendation: Coconut porridge
Credit: Pot Kettle Black Twitter
Moose Coffee – This American-style cafe offers up a plethora of hearty, themed breakfasts. Whether it's the Bronx Brunch or the Phoenix you opt for, their menu is vast and varied. The whole place feels authentic and has a unique décor, complete with antlers adorning the walls. (open from 8am)
• Recommendation: Moose Apple & Homemade Salted Caramel Pancakes
Credit: Moose Coffee Instagram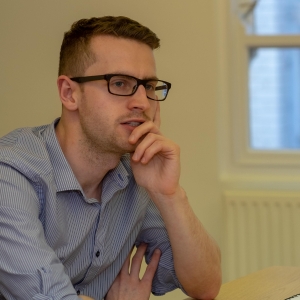 The author
Danny is an Account Manager in the Manchester office