O ur very own four-legged brand ambassador, Tess the Terrier, hit the headlines recently as part of #BringYourDogToWorkDay.
The Twitter post showing her perched at her desk was snapped up by the Metro, Daily Mail and Yahoo websites. When it comes to social media PR, she nailed it for us.
We don't want to over analyse what was a bit of fun but this got us thinking – why did a photograph of the office dog get picked up so quickly by major UK news sites?
And, does this mean we should just give up on the serious business chat and focus on furry animals instead?
It wasn't only on Twitter where Tess caught the eye – she also received a lot of love on LinkedIn when Nikki, 'mum', posted the same picture on her profile. For a B2B platform, where business is supposed to be the order of the day, this came as a little bit of a surprise. Although, LinkedIn users often do like some more light-hearted posts that break up the work chatter.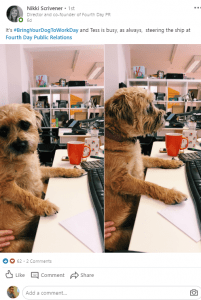 Our takeaway from Tess's moment of stardom? When posted with the right intentions, at the right time, cuddly animals will always prove popular – in this case, we just wanted to make people smile and it helped that we jumped on the trending hashtag.
We certainly couldn't get away with posting pics of Tess all the time though. Much greater thought needs to go into what type of content audiences would be grateful to see on a regular basis. Mixing in the occasional light-hearted post never hurts though and it can even be rewarded with a lot of love.
Now, if Tess could only make a decent round of tea…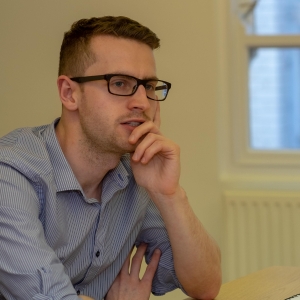 The author
Danny is an Account Manager in the Manchester office