The Burberry brand has a rocky relationship with the fashion world, not least when, back in the early 2000s Burberry took its trademark check from the discreet linings of its trench-coats to plastering it all over its collection. Eastenders' actress Daniella Westbrook was infamously 'papped' wearing the bold Burberry print from head to toe – from skirt and bag to baby and buggy. Burberry became 'chavtastic' and was a regular feature on market stalls up and down the country.
Quite rightly, the brand decided that something needed to change if it was to salvage its image and, by 2008, had the likes of Agyness Deyn walking the catwalk. The brand has gone from strength to strength since and current campaigns feature a certain fresh-faced mini Beckham alongside model of the moment Cara Delevingne. Given its high-standing in the fashion world, and all it has done to overcome past misdemeanours, I was expecting great things from the Central Manchester branch that I visited last week.
Not so. On first entrance, I was greeted by a friendly member of staff donning a plain black top and trousers combination. While she looked perfectly lovely, her outfit gave no nod to any sort of Burberry identity. If I was looking for inspiration, or a real-life look at the new season's pieces or insight into how somebody was making them their own, I was sorely disappointed. First impressions over, I headed up the stairs to womenswear. The walls up the staircase had recently been plastered in places but not re-painted, resulting in large splodges patterned over the walls. No visible sign was available to let me know that any building work or re-construction was going on and as a result, I could only assume this was a permanent feature.
By all means, it wasn't all bad. Plush sofas and neat stacks of clothes certainly stood out as positive but against the backdrop of the unpolished staff style and scuffed walls, the negative features dominated. Additionally, given that a regular anti-fur campaign takes place outside this particular store, I would have expected Burberry to take extra measures in order to entice customers in. There was nothing about the scenario that created an experience. Compare this to Burberry's Regent Street flagship store and it's quite a different story. Two years of renovations have resulted in a space truly reflective of the digital age. Dubbed 'Burberry World Live,' the store allows a customer to experience the online shopping experience in a brick-and-mortar environment. Particularly clever features include radio-frequency identification technology (RFID) which triggers content relevant to the product you've just picked up. Hold up a trench coat near a mirror and it may transform into a video clip of Burberry's model of the moment posing in the same jacket. Inspiration.
It may sound fussy – a few scuffs here and there don't sound like they'd make much difference – but brand image and all the areas that it covers (including staff and store presentation) is hugely important. Retail is no longer just about the clothes but rather, the overall experience. Retailers would do well to recognise that one poorly presented store can put customers off shopping at any of the brand's stores again.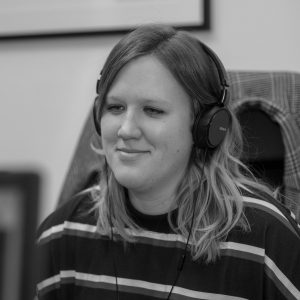 The author
Lizzie is an Associate Director in the Manchester team