Are you getting maximum value from your lead gen content?
By Paul Maher
A s the fuel that powers lead gen campaigns, content plays a crucial role in reaching people at various stages of the buying journey. It can capture their initial attention, nurture their interest and, finally, convince them to become customers.
If we produced content for no other reason than to populate the marketing funnel, it is likely to generate significant ROI. But are we doing everything we can to eek every last drop of value out of the content we create – or can we make it go further?
Thinking beyond the lead gen process, content can provide a whole host of additional benefits – such as enhancing brand perception, increasing social engagement and driving broader brand awareness.
We tend to create content with specific objectives in mind, but it's always worth taking the time to consider the ways in which we can repurpose everything we write, to make it go further. Here are just a few ways you could do that across different marketing channels.
Engagement on LinkedIn
One way to make more of your lead gen content is to repurpose it for LinkedIn. If you have produced a report with interesting findings, encourage your key spokespeople to share snippets. This will drive greater awareness of the paper, but it can also boost the personal reputations of your brand ambassadors and help stimulate interaction with prospects on the platform.
You could also create short thought leadership articles (based on the report) that ambassadors can post on LinkedIn to boost their credentials further – and help establish them as authoritative influencers in their industry.
Here is an example of a LinkedIn article, which was based around a campaign on taxi driver recruitment for our client Autocab:
Awareness through the media
The media is an often-neglected channel when it comes to sharing lead gen content. This should always be considered though, because, when successful, quality coverage will give you access to a highly relevant and receptive audience. This will not only broaden your reach, but being visible in the right publications will also heighten the perception of your brand.
If your content contains fresh research or proprietary data, you may find journalists are more than willing to share these findings. They may also be willing to accept commentary, or an opinion piece, drawn from your lead gen content. It's also worth investigating whether there are publications that will host your content in its entirety – some trade titles will share these in their industry papers library, for free or as part of a paid partnership.
As an example, here is an article which was published on Supply Chain Management Review, following the publication of a procurement whitepaper.
Greater visibility on social media
If you have key stats or quotes to share, turn them into visual posts that will capture people's attention on social media. A well-crafted pdf carousel shared on LinkedIn, for instance, allows you to reimagine your content and get your message across in a succinct and compelling way.
It may be slightly more time consuming to include good design, but this will have a big impact on visibility and the ability to pique interest in your content. That extra bit of effort can impress upon your audience that this is content worth paying attention to.
Check out our LinkedIn page for an example of how we created a carousel to promote one of our blogs:
Engaging through video
There is also the option to create engaging videos based on your content. This is a great way to boost the profile of a brand ambassador and help them to be seen as a key opinion leader. With the content already produced, you could just record your spokesperson commenting on the findings.
With a relatively small budget, it's possible to produce simple videos that can be shared on social media, via email or on your lead gen landing page. This is not only a great way to introduce key spokespeople to your prospects, it can also make your content more easily accessible and help generate interest.
Enhancing your emails
Email is already a key component in most lead gen campaigns, but there may be ways to use this medium to generate further interest in your content. For example, in addition to a direct campaign email, could you encourage your colleagues to include a link to the content in their email signature? Could you also add the same link in future email newsletters?
There are so many ways to generate greater interest in your content and draw additional value from it – sometimes all it needs is some lateral thinking. The above are just a few tactics we've previously deployed as part of content campaigns for our clients. This is by no means a definitive list of options, but hopefully it will inspire you to make each piece of content you produce work as hard as it possibly can.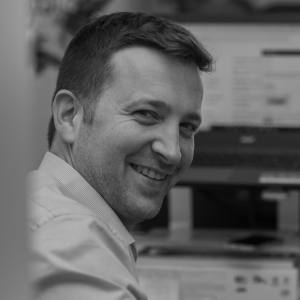 The author
Paul is Fourth Day's Head of Content , based in Manchester