Last summer, Fourth Day director, Nikki and I were at a Forever Manchester event where we heard Jane Kenyon, founder of Girls Out Loud, speak about how the social enterprise helps to bring about equality of opportunity for women. We immediately loved the concept and knew that we wanted to get involved! We've been partnering with Girls Out Loud for almost 6 months now and, in that time, we've got to know the organisation and its aims really well.
Broadly, Girls Out Loud exists to empower teenage girls to believe in themselves and inspire them to succeed – an idea we can all get behind. But, as everyone knows, there's no substitute for seeing an idea in action, and that's why my colleague Lizzie and I were so excited to take part in one of Girls Out Loud's Role Model Relays this week at Cowley College in St Helens.
The premise of the Role Model Relays is simple: a group of 20 – 30 professional women spend a few hours with an entire year group of girls. It's a speed-mentoring format, and the aim of the game is for the girls get to chat to as many Girls Out Loud role models as possible throughout the morning.
The event kicked off with some inspiring talks from local women, with all kinds of backgrounds, career paths and roles represented – from singer to barrister to salon owner, there was something to spark the interest of everyone in the room. And then it was over to us!
The girls were split into small groups and the 20 or so role models moved around, spending 5 minutes with each. We explained a bit about our career paths and the girls quizzed us on everything – from what we'd studied at uni to what motivates us to get up and out the door in the morning.
The range of ambitions in the room was astounding. We spoke to girls who wanted to be university lecturers, customs officers, nurses, teachers, marine biologists, singer-songwriters, palaeontologists and almost any other job you can think of. And who knows – maybe Lizzie and I even inspired some to consider the world of PR.
With the North West recently named one of the worst places to grow up as a girl, the work that Girls Out Loud does has never been more important. It was incredible to be a part of one of their events, not only to make a difference to how the girls see their future, but also to meet so many women at the top of their game and achieving so much.
We left on a high, feeling energised to go out and be the best version of ourselves – here's to making 2017 the best year yet!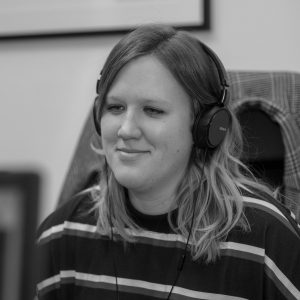 The author
Lizzie is an Associate Director in the Manchester team