Elegant, imposing, bustling, historic, diverse: these are just a few words that could be used to describe Somerset House – where our London office can be found. Previously home to Queen Elizabeth and in more recent times, to the General Register Office and HMRC, it now provides a home for Fourth Day. It is the one spot in London where you can see world-class art in the Courtauld Gallery, sit by the Thames and dine at a restaurant with a Michelin-starred chef, all without leaving the building. Why not pop in to our office to say hello, and while you're here, let us show you all that's on offer in this remarkable setting?
Morning
A day of exploration begins with coffee at Hej, in the South Wing of Somerset House. Hej is a Swiss-inspired coffee shop with an authentic neighbourhood-feel. The coffee arrives at Somerset House via a local roaster in Woolwich. We enjoy taking many of our visitors here – its fresh coffee and pastry selection make it a great place for client meetings and friendly catch-ups.
After a caffeinated fix, we'd recommend a visit to the world famous Courtauld Gallery. The Gallery hosts over 3 floors of artists such as Van Gogh, Monet, Pissarro and Cézanne, making it one of London's, and Fourth Day's, best kept secrets.
Heading out of the Gallery now, we advise a stroll to the Fountain Court – or if you're walking down the Strand, just pop in. We love this spot as it's different almost every time you see it; in the summer, there are beautiful fountains and outdoor cinema screenings, and in the winter, enjoy the festive skating around the Christmas tree. However, what is permanent about the court is the feeling that you're in a period drama. We're not the only ones to recognise this – Somerset House is the most popular film location in London. The Courtyard has been transformed into Victorian backstreets, asylums and palaces, and can be seen in a variety of blockbusters, including The Duchess and X-Men: First Class.
Afternoon
There's always a discussion in the Fourth Day office over what time lunch is, the Manchester colleagues head around 12pm, whilst the London team usually eat lunch around 1.30pm. Nevertheless, when joining us at Somerset House we'd love to take you to Pennethornes for lunch – a relaxed, stylish café in the New Wing.
Having refuelled, the Fourth Day tour continues! This exclusive tour encompasses the 'dead room' in the basement which contains gravestones of former courtiers who died over 400 years ago, the Makerversity, a 'co-making' space in Somerset House with an international community of creative people, and the Somerset House studios where Sherlock was filmed. Why not then treat ourselves to some tea (and cake) at the Paint Room café in the basement, open only to Somerset House residents. Once we're done here, we'll head up via the most spectacular staircases in London – at the Western end, the Nelson Stair and at the Eastern end, the Stamp Stair (and the location of Fourth Day's office) – although lacking in grace, its resemblance to Hogwarts will delight many.
Evening
As the day draws to a close, let's take this opportunity to relax by the river – enjoying the views of the Thames, with Westminster to our right and the city to our left. Set slightly aback from the road, it is one of those rare, peaceful places in central London. As an end to what we hope to be a perfect day, let's grab a table at Bryn Williams – a restaurant that masterfully combines the laidback atmosphere that Fourth Day loves, within a historic setting. This is a personal favourite of mine due to its fresh, locally sources ingredients, ticking all of the sustainability and seasonality boxes.
I hope this piece has inspired you to pay us a visit – we couldn't be prouder of where we are which is why we look forward to welcoming you here and exploring this beautiful building together.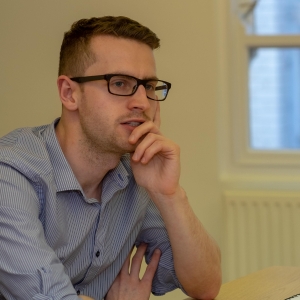 The author
Danny is an Account Manager in the Manchester office