W e love spending time with our international colleagues here at Fourth Day, so Eryl and I jumped at the opportunity to be able to work in the Paris office for three days.
It was a great chance for me to brush up on my rusty French, and for us both to experience a different working environment and take in the sights and sounds of the capital.
Here are some of the main take-aways from our quick trip across the Channel…
Brexit… what Brexit?
Inevitably, with the deadline for Britain's departure from the EU drawing ever closer, we were keen to get the French viewpoint on this controversial decision.
Over lunch at a local bistro, we posed the question to Antoine and the team – but were surprised to learn that there is little coverage around Brexit in the French media. Following the initial referendum and fallout from the result, the French really don't seem to be in the loop about the latest goings on.
Internal politics will, of course, always take precedence, and there does seem to be a growing air of discontent with the current French government and President, Emmanuel Macron. We heard that protests were set to take place around Paris over a rise in fuel duty. While strikes are a common occurrence in France, the growing anger towards the country's youngest ever President doesn't exactly bode well for the rest of his time in office.
New clients, new office furniture
It's all go in the French office – not only were we recruited to help the team construct some new office furniture, but we found out about an exciting new client.
SymphonyAI provide solutions and platforms powered by artificial intelligence, to enterprises working across a variety of sectors – including retail, healthcare, industrial and IT. In a retail setting, for example, this would enable retailers to spot buying trends and plan their strategy based on the insights gained from customer, supplier and product data.
We're always hearing about the possibilities of AI, and sometimes it can seem like all too much hype. But it's a growing influence – there are plenty of companies using AI-based products like Symphony's already. This is hopefully going to translate into faster growth for businesses and improved experiences for us as consumers.
A lesson about the Eiffel Tower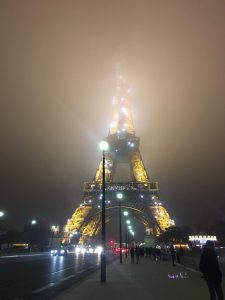 While visiting Paris, we felt it was only right that we should tick off a tourist attraction and snap a picture for the Fourth Day Instagram page. We both agreed on a visit to the Eiffel Tower after work, and at a very reasonable 12 euros each to reach the top, it would have been a shame to pass on the opportunity.
Approaching the famous landmark, we both commented on how great the base of the Tower looked shrouded in fog. It had a mysterious air about it and wouldn't have looked out of place in a Parisian-based TV thriller. Totally different story when we got to the top though… we couldn't see a thing, and ended up making a quick trip back down.
Lesson learned – if you're visiting Paris on a foggy day, forget about the Eiffel Tower. At least the pictures gave the rest of the team a laugh!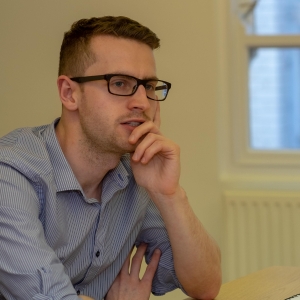 The author
Danny is an Account Manager in the Manchester office