The best coffee shops in London
By Danny Ward
I t feels like there's a cafe on every corner when you're walking around the streets of London.
With so many options, you're almost spoilt for choice. But, depending on the purpose of your meeting, the choice of meeting place can make all the difference.
Whether you need a spacious location to hold a serious business discussion or a cosier spot for a more intimate catch-up with colleagues, it's good to know what options are available to you.
So, now we're all getting out and about more, we thought it would be helpful to share a few of our favourite venues.
We hope to meet you in one sometime soon.
Clerkenwell Kiosk – Located in the park ranger's hut in a little churchyard on Clerkenwell Green. If you ever need to take your dog into the office, it's a handy and popular place to stretch your legs while the mutts cock theirs.
There's no seating though – it's all about grabbing a hot drink on the move, unless you get chatting with the other urban pupsters.
The India Club bar – Just outside our offices at Somerset House, this place is one you could easily miss if you didn't know it was there, with its unassuming entrance to the Strand Continental Hotel.
Up one set of stairs where you'll pass posters for Bollywood film nights, and then another flight up from the restaurant – which offers wonderfully authentic, inexpensive, Indian dishes – and you'll find yourself stepping back in time into colonial India.
It's totally unpretentious and quirky and a great place for coffee, tea or anything else you fancy.
Grind – Grind's Greenwich and Covent Garden café-bars are our two go-to spots of the many others dotted around London.
The coffee is quite full-on so is a good option for those of you who take your tasting more seriously. It's also a great spot for meetings as it's very spacious and offers table service, without being outrageously more expensive.
The Swan at the Globe – Sadly, the bar at the Swan no longer offers breakfast, opening at 10.30am rather than 9am. But it's still a great place to grab a coffee and enjoy a view of the river.
Gentlemen Baristas – These coffee houses seem to be taking over London – but our favourite is located on Union Street, near Southwark Bridge Road. Cosy and characterful, it also boasts a tiny roof terrace for the warmer months.
They have also taken over another cafe favourite of ours, at the Jerwood Space, which has rehearsal rooms used by West End theatres. So, you can often do a bit of star-spotting while you sip your coffee.
Pennethornes – This has finally reopened! It's a lovely space inside Somerset House, with big windows looking out onto Lancaster Place and bottle and glass displays that make us think of Manet's Moulin Rouge.
There's also a smaller room ("the dining room") across the corridor which contains additional seating and can be hired for private events.
Pret a Manger, Royal Courts of Justice – Yes, this is just a Pret, but it's in a beautiful building opposite the Law Courts on the Strand. Lots of space and seating, including 4-person booths. Great for a quick eat-in sandwich with a friend.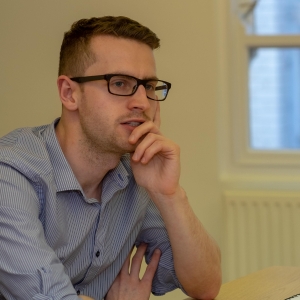 The author
Danny is an Account Manager in the Manchester office