Inspired by London coffee festival, we've decided to share our love of this beautiful caffeine-laced beverage by recommending some our favourite coffee shops in SE1.
Now we do have excellent coffee machine here in the office, but that wouldn't really be keeping in with the spirit of the festival, which run April 6-9. So we ventured out for a change of scenery this week and sampled the best of the Bankside area of London.
The Swan
Our London Director Xanthe has selected The Swan as her favourite coffee spot. Right next door to Shakespeare's Globe, it has an excellent view of the river. It's a great place to get out of the office environment and enjoy the best London has to offer. With a relaxed atmosphere and a large selection of coffees, drinks and food, this top location is just around the corner.
Caravan
Lisa's top choice is Caravan – a trendy restaurant located in our office building, the Metal Box Factory. Conveniently close, it has very super speedy service – great for when you've only got a minute. But with a fantastic menu, you can also relax and grab a bite to eat if you're feeling peckish. This is a big winner for Fourth Day due to our loyalty card, which means we get every ninth coffee free.
Tate Modern members room
Despite not being a big coffee drinker, James has chosen the Tate Modern members room as his favourite location for a cuppa. We do like to make the most of our Tate members cards and look at some art when we've a moment to spare. Located right at the top of the building, the members room is another venue with more great views of the river. With a large space and lots of tables – it's also ideal for a team meeting.
Terry's café
If you want a proper London 'caff', look no further than Eryl's choice: Terry's café on Great Suffolk Street. A family business in the heart of Borough, this establishment keeps it simple with traditional English breakfasts and no nonsense beverages. During the warmer months, it also puts a few tables outside so you can sit and watch the world go by.
We can't tell what Rachel and Kate's favourite coffee shops are as they're both currently away skiing – so they'll mostly be drinking schnapps instead this week!
Have we missed any of your favourite locations? Tweet us at @FourthDayPR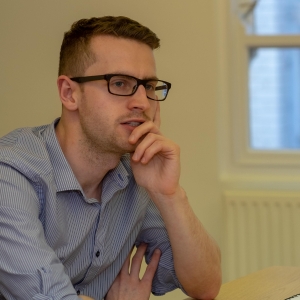 The author
Danny is an Account Manager in the Manchester office