We were delighted to announce our partnership with The Running Charity earlier this month – an inspiring organisation which embraces the benefits of running and regular fitness to help transform the lives of young men and women experiencing homelessness.
Running is also close to our heart at Fourth Day – many members of the team regularly enjoy a run on their lunch break or have competed in races for a competitive challenge.
During our annual offsites or visits to our offices (pre-Covid restrictions), there is usually a group of us who venture out for a run. We even have our own branded running shirts, featuring our logo and colours!
So, in the spirit of all things running, we gathered a few snaps of the Fourth Day team running around the world and asked for their thoughts on why they love doing it so much…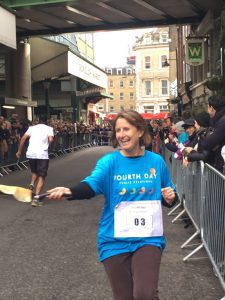 Our London director Xanthe tackling one of the Borough Market pancake races
Xanthe shares her thoughts on running:
"I'm probably one of the world's slowest runners, but I love it. It's the best way of doing an early morning recce on holiday, shaking off an over-indulgent evening, or just having a really good chat.

Unfortunately, this makes me entirely unqualified for sprinting, but I'm always happy to put my best foot forward for a pancake race."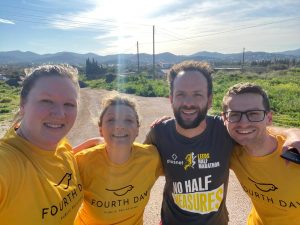 Lizzie, Nikki, Lee and Danny enjoy the early morning Greek sunshine during a run on our March 2020 offsite.
Lizzie has enjoyed her running during lockdown:
"I'm not a natural runner and often have to gear myself up but always feel good once I've done it! Lockdown has been great for discovering some new routes and green spaces – my new favourite spot is running along the River Mersey."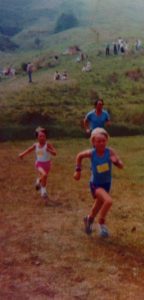 Caroline (in white top and pink shorts) competing in a fell race in her youth
Caroline has been running for years:
"I've always enjoyed running. When I was little I used to watch my dad at track, cross country and fell races around the north of England and I'd join in with the juniors at his running club, then later at school. I stopped for a few years when the gym became more attractive, but started again when I worked in central London, joining colleagues running around Regent's Park.

"I love the fact you can run anytime and anywhere for as long as you want to. In recent years, I've been more of a plodder and enjoy going out regularly with a friend. For me, it's now a workout on many levels – clearing my head, having a natter and keeping my body ticking over."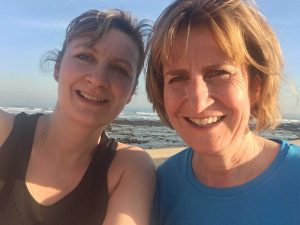 Nikki and Xanthe enjoy a run by the beach during our Casablanca offsite in 2018
If you want to find out more about The Running Charity and the excellent work that they do, make sure to follow them on social media: Twitter, Facebook and Instagram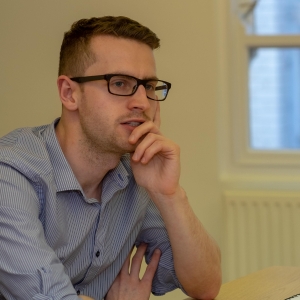 The author
Danny is an Account Manager in the Manchester office