Diary of a PR intern
By Danny Ward
Starting as an intern at Fourth Day has been a learning curve as I've adapted to a new industry and to new ways of working. As my first experience of PR, I was eager to find out what it was all about – admittedly, I knew quite little! I had an idea that PR involved using the media to make companies more visible – though I soon learned that it is also about building a brand's reputation, as well as building relationships between companies and their audiences.
Having worked remotely during my degree over the past eighteen months, I was used to Zoom and setting up my workspace background, (as well as swiftly making a coffee before switching my camera on), but I still had to learn about all the applications we use for workload and time management such as Trello and Toggl. The first few days included morning catch-ups as well as plenty of coaching from colleagues about software and processes, along with helpful tips for starting out in PR. These ranged from how to create promotional graphics to putting together media lists and writing a successful pitch.
In contrast with the final year of my university studies, which took place remotely, I have been lucky enough to work in person too, travelling into the Fourth Day offices at Somerset House. I enjoyed the morning walk from Covent Garden, sussing out the best spots to grab lunch from. Having a mix of virtual and in person meetings, over Google Meets or over a coffee, I've felt connected to colleagues dotted about around the UK and abroad from our offices in Paris and Casablanca at Quatrième Jour.
Fourth Day works with a range of clients, from technology companies like D2L, a software company which provides an online learning platform to educational providers, to financial companies like Knight Transaction Services, an all-female team of due diligence specialists. Fourth Day is a truly international agency which manages clients working across the globe, from the tech and industrial sectors to the arts and not for profits.
One client I have worked with in the charity sector is Counselling for Musicians, a service for those working in the music industry. As a PR intern, I was creating media lists, using Response Source, of titles which a client could be featured in, or looking on Twitter for recent journalists' requests for potential pitches. I found an opportunity on IGTV Live from a music journalist who was looking to interview people in the music industry about mental health. I then created a social schedule of recent and relevant news content. As tours and live performances could not go ahead during the pandemic this put a huge strain on musicians' livelihoods, and made the need for more open conversations about mental health much greater. There was plenty of content to discuss, from podcast episodes to mental health charters. I learned that curating a schedule involved a lot of research and editing to achieve the right voice and message.
My time as an intern at Fourth Day has been enjoyable and I've learned a lot in a short space of time, acquiring communication skills important for the PR process, but also for the workplace, virtually and IRL (in real life). The internship has taught me not only about how PR works, but I've been introduced to brilliant emerging and established brands and organisations, as well as becoming totally up-to-date with industry and world news. After work drinks each Friday have been a nice way to round off the week and catch up with colleagues. Whether joining a Zoom call from our offices in London or Manchester or from our homes, we've managed to make a Fourth Day team experience – and I now feel a part of it!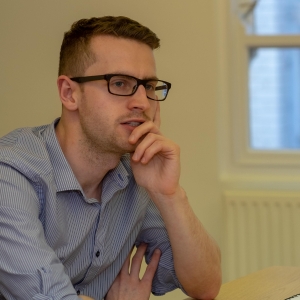 The author
Danny is an Account Manager in the Manchester office